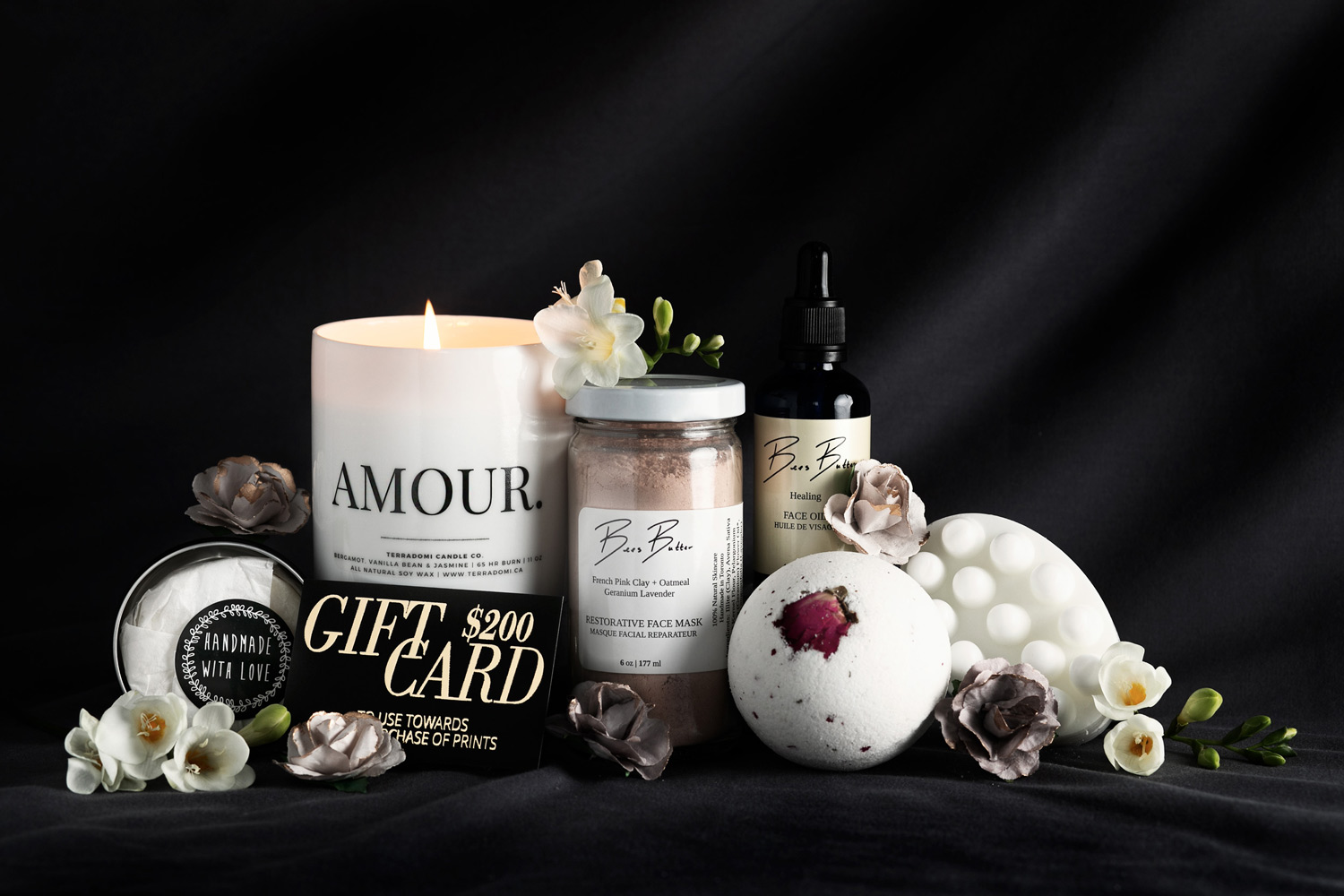 Valentine's Day is fast approaching and as good as a romantic night can be, we think you and your love (or even just yourself!) deserve some extra pampering and luxury. With not many places to go this winter, this package was created by four small Canadian businesses to offer you (and maybe your sweetheart) a well-deserved treat where you can enjoy yourself and create precious memories! And so, we bring to you an ultimate experience to enjoy, remember and brag to your friends about!
The experience is meant to be enjoyed individually or by all love birds out there and it includes
"Amour" luxury soy candle by Terradomi Candle Co.
Sophisticated and luxurious aroma of vanilla bean, bergamot, and jasmine, sure to set the mood!
Pampering set by Bee Clean Boutique that includes:
(1) Midnight Rose Bath Bomb- A bath bomb that can win your heart. 100% certified organic geranium essential oil, rose essential oil, and rosehip oil are blended together to create the luxurious aromas of this beautiful Midnight Rose bath bomb. Rose and Geranium essential oils are known to decrease anxiety and stress so enjoy a long luxurious bath and allow yourself to drift into a peaceful, calm, and relaxing state of mind.
(1) Cocoa Butter Massage Lotion Bar- A solid massage lotion bar that smells delicious and can be enjoyed by yourself or with a partner. Simply massage the lotion bar between your hands and the warmth will melt the cocoa butter bar into a perfect consistency for massaging. As tempting as it may be to lick off the butter that smells just like chocolate, remember it is meant for external use only!
(1) Vanilla Peppermint Body Massage Soap Bar- this luxurious massage soap bar is made with Shea butter and 100% certified organic peppermint essential oil. Peppermint essential oil is known for its soothing properties, lather up and enjoy in the shower by yourself or with a partner and work away from that tension!
Self Care Set by Bees Butter Canada:
(1) Healing Face Oil (50 ml)- infused with Calendula and Elderflower, this light and quick-absorbing oil helps to revitalize your skin and help you unwind.
(1) Restorative Face Mask- Enjoy the benefits of French Pink Clay (yes, you too gentlemen!) coupled with the softening properties of Oatmeal Flour. Infused with lavender and geranium essential oil.
$200 Gift Card to spend on your next session with Bruna Rico Photography
One $200 gift card you can use at Bruna Rico Photography for a memorable photo session! The gift card gives you $200 to use towards prints, once the photo session is all done and you realized you'll want to frame all the photos and hang them EVERYWHERE.
*Please note: there is a session fee of $690 + HST which includes: professional Makeup ant Hairstyling so you can look and feel sensational, custom design of your session, fully guided unforgettable experience with multiple looks, professional retouching of all your photos, reveal & ordering session, $500 in print credit. (with the purchase of this gift card you will have $700 in print credit total). For more information, please click here.
ALL PACKED IN A BEAUTIFUL BOX FOR YOU FOR $178 + HST (VALUE $310)
To buy the ULTIMATE EXPERIENCE VALENTINE'S DAY BOX, please choose one of the links below:
*** ships January 30th & February 8th***