As a Toronto pregnancy and maternity photographer, I've been frequently asked when the best time to book a pregnancy photoshoot is.
The general "rule" as to which week or month is best to book your maternity photo shoot, is between 28 and 36 weeks of pregnancy. That is between the seventh and eighth months of pregnancy, which is the middle of the third trimester.
So for those asking, 35 weeks is not too late for maternity photos!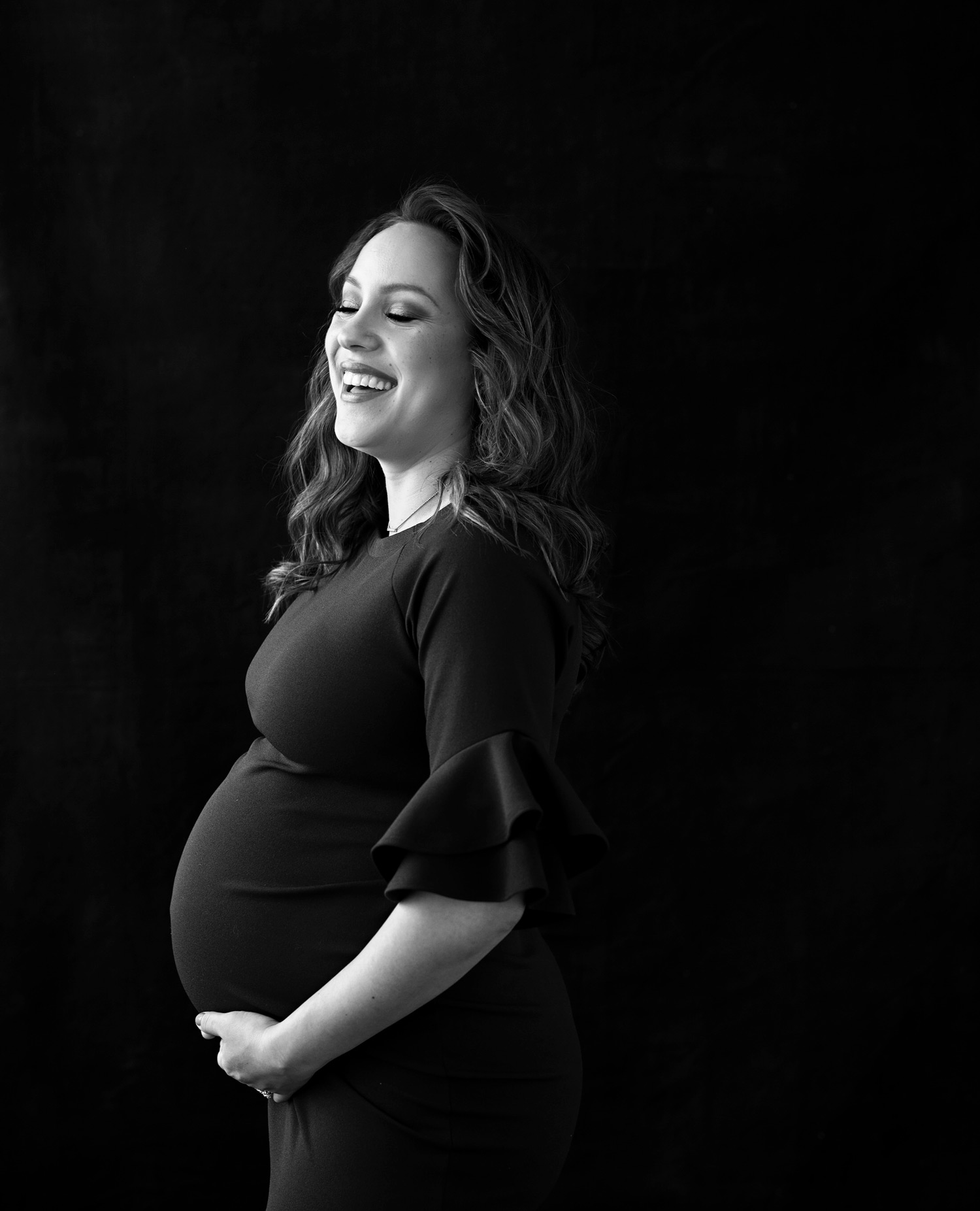 Why schedule your Maternity Photography session between 27-36 weeks?
The Belly's Shape
This is considered the best time to get maternity photos taken, because it's when the belly has a nice round shape, which is perfect to photograph!
Although every body is different, many women, including first time moms carrying single babies, don't show enough prior to 28 weeks.
Expectant Mother's Comfort Level
Between 28-36 weeks, you will still feel comfortable enough to pose during the photoshoot and be able to do so safely. After 36 weeks, your belly may feel very heavy and you might experience increased fatigue.
Being able to move around happily and easily during our photoshoot - especially at your peak glow! - will translate beautifully on camera.
You Can Use Those Gift cards!
Waiting until your third trimester to capture your pregnancy journey is a good idea, as you'll have enough time to use any maternity photography gift cards you have been gifted at your baby shower.
Maternity photography gift certificates are a great item to add onto your registry, if you're a pregnant mom and haven't done so already! I have gift certificates available (tell them where, how much they can purchase and link to them in this section).
While between 28-36 weeks is an ideal time frame to schedule your maternity photos, there are some exceptions that should be considered. That is because there are certain circumstances where this might not be ideal, or even possible.
Reasons to book your maternity photo session before 28-36 weeks:
Expecting Twins or Multiples
If you are expecting more than one baby, I recommend you to schedule your maternity session during your second trimester (around 24 weeks).
This is because moms of multiples tend to have a larger, rounder belly before moms carrying singles. That means that their larger belly can become uncomfortable for posing, after 28 weeks.
Another factor to consider is that moms carrying multiples are more likely to deliver their babies before 40 weeks. Twin deliveries, in fact, on average, happen around 35 to 36 weeks.
Baby Shower invitations photos
Planning on using your maternity photos for your custom baby shower invitations? Then I would recommend doing your maternity photo session no later than the beginning of your third trimester, at around 27-28 weeks.
That gives you time to receive your photos and create your beautiful print or e-card invitations.
High-risk pregnancy
Though most high-risk pregnancies go smoothly, it's always better to err on the side of caution and choose the second trimester to take your maternity photos.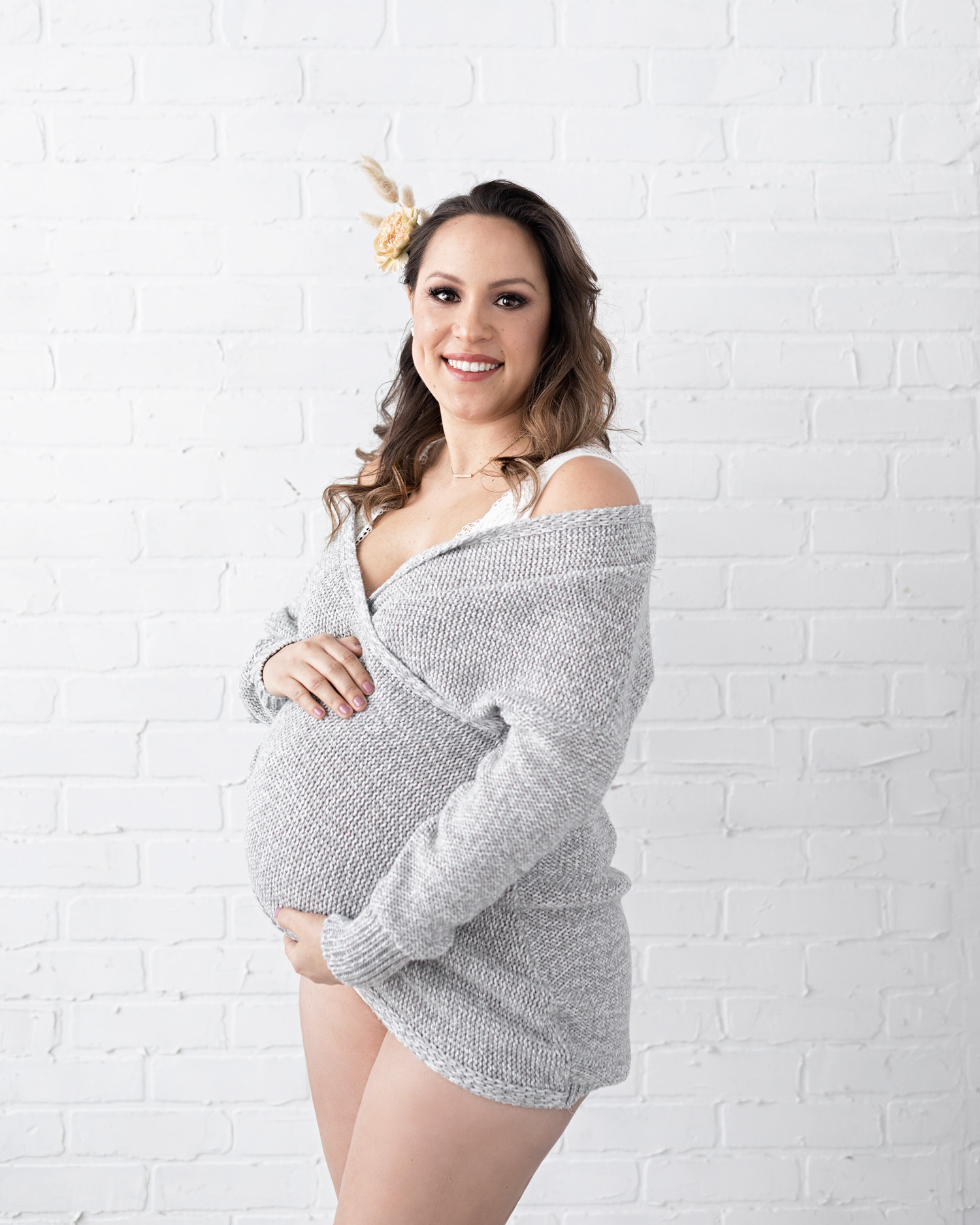 Book Your Maternity Photography with Bruna Rico
If you have the energy and feel comfortable enough to move around, I would highly recommend getting your maternity photos taken to capture this beautiful moment. I would be honoured to be part of that memorable experience!
If you're an expecting mom and just realized you'd like to have your maternity photos taken, but are closing in to your due date, I would be more than happy to do my best to accommodate your photoshoot request. Better later than never!
If you are interested in timeless maternity photography that will give you and your family memories of your journey into motherhood for years to come, please contact me as soon as possible. That way, we can work on finding a date that suits your schedule in my calendar. 
I'd be thrilled to be your maternity photographer and welcome you into my Toronto photography studio, located in the Junction Triangle!